Coronavirus (COVID-19) Preparedness Information
Southern Tennessee Regional Health System Pulaski is committed to providing the highest quality care and ensuring the safety of our patients, employees, providers, volunteers and visitors. We are continuing to monitor the evolving situation with the coronavirus (COVID-19) and are taking the necessary steps to ensure we are fully prepared to care for patients, in accordance with guidance from the Centers for Disease Control and Prevention (CDC) and in partnership with our local and state health departments.
Below are a number of resources to help educate you and your family on COVID-19. For more information on the virus, please contact the health department.
Quick Links:
Centers for Disease Control and Prevention (www.cdc.gov)
Local/state health department – (

www.tn.gov/health

) COVID-19 Public Information Number 877-857-2945 Available 10 a.m. – 10 p.m. CST Daily
State hospital association – (

www.tha.com

)
COVID-19 Online Risk Assessment
To help support the health of our community, we are providing access to an online COVID-19 risk assessment developed by the Centers for Disease Control and Prevention (CDC). This tool does NOT provide a diagnosis, and it should NOT be used as a substitute for an assessment made by a healthcare provider.
Are you trying to learn more about the COVID-19 Vaccine? See below: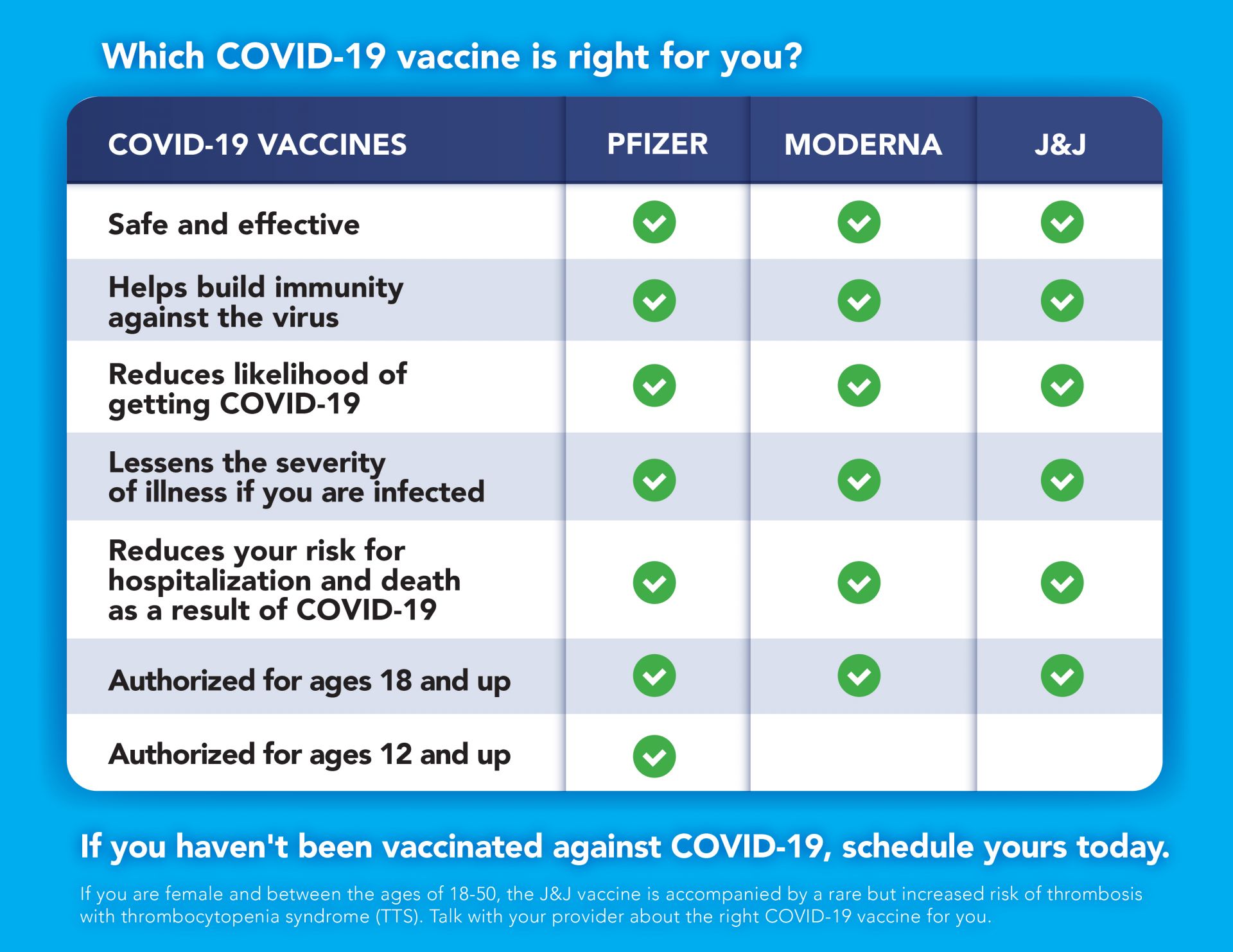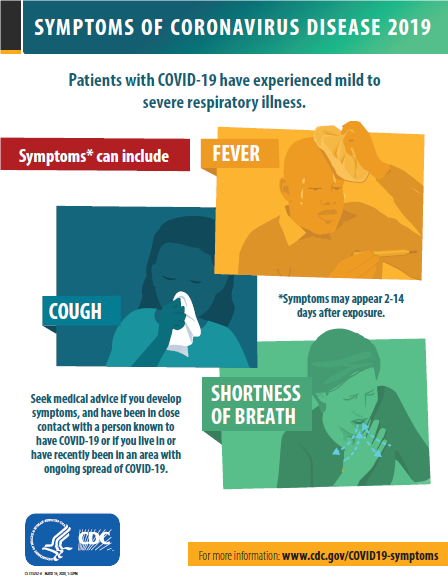 COVID -19 Testing for All Hospital Admissions
Due to the COVID-19 infection rate in our area and the prevalence of community spread of the virus, we are going to begin testing ALL patients who are admitted to our hospital for COVID-19, effective September 3, 2020. Universal COVID-19 testing will continue in the market until the data reflecting community spread of the virus improves.
We believe this is the right thing to do in order to better protect our providers, employees and clinical teams from unknowingly treating a patient who may not appear to have symptoms of the virus, but who is, in fact, infected.
Universal Eye Protection
Effective immediately/, based on the recent Centers for Disease Control and Prevention (CDC) guidance for communities experiencing moderate to substantial transmission, we are now requiring our clinical team members to wear eye protection for ALL patient encounters until further notice – regardless of whether the patient has confirmed or suspected COVID-19. Eye protection includes goggles, face sheilds, and powered air-purifying respiratiors (PAPRs).
We are making this decision because of the rising number of COVID-19 cases and the increased rate of transmission here in our community. The safety of our team members continues to be our top priority as we continue to navigate this pandemic, and we will not waver in this commitment.
Universal Masking
Southern Tennessee Regional Health System is taking every precaution to keep our patients and staff safe, and prevent the spread of COVID-19 in our facilities. For this reason, we are following the CDC recommendation that anyone who enters our facility must wear a face mask at all times.
Visitors are encouraged to bring their own mask from home to help conserve hospital supplies for patients and staff.
Why wear a mask? Recent studies show that universal masking, in addition to practicing social distancing and proper hand hygiene, can help prevent the spread of infectious diseases like COVID-19, especially in individuals who may not know they are ill. And until there is a vaccine, these measures are our best line of defense in protecting not only you, but also our healthcare workers and community members.
Please be smart and do your part. Wear a mask! We all have a responsibility to protect one another against the spread of COVID-19 and make our communities healthier.
Entrance Guidelines:
For the safety of our patients, employees, medical staff, and the community we are restricting patient/visitor entrance to the rear registration/ER entrance ONLY, located at the rear of the building.
Entrance to Sharon's Place (formerly The Cafe is through the from main lobby.
Thank you for your understanding and cooperation!
Visitor Guidelines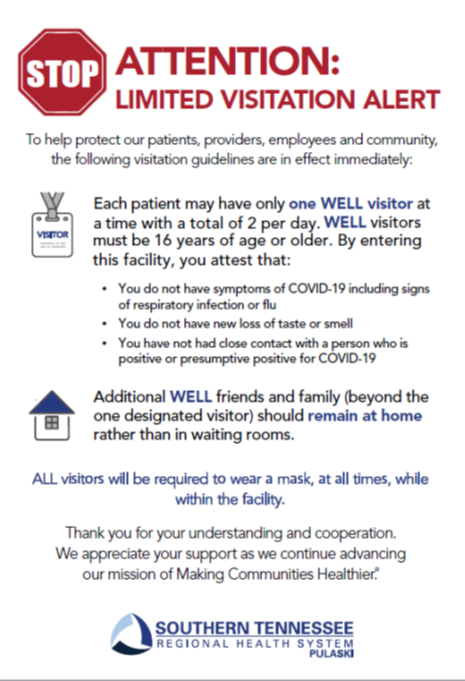 We are Maintaining a Clean & Safe Environment
STRHS Pulaski is committed to providing a clean and safe care environment, and we are taking all precautionary measures to safeguard our staff, providers and those we serve against the spread of illness. Our hospital is clean and safe – just like it always has been! One of the core elements of properly managing infectious diseases is the cleanliness of our physical facility.
Here are some of the specific steps we are taking to maintain a clean and safe environment and prevent the spread of infectious diseases, like COVID-19:
Compliance with Infection Prevention Best Practices, including:

following hand hygiene protocol and utilizing appropriate personal protective equipment (PPE) at all times

ensuring availability and access to hand sanitizer and soap throughout the facility

using proper disinfectants, cleaning agents and supplies that meet state and federal infection control standards


Terminal Cleaning and Disinfection of Sterile Areas: Our teams conduct terminal cleaning and disinfection of all sterile areas, including operating and procedural rooms, in accordance with industry standards and best practices.


Focus on High-Touch Areas: We have enhanced cleaning and disinfection of high-touch items and surfaces in high-traffic areas of our facility, including our emergency room, lobbies, waiting areas, hallways, restrooms, elevators.

Increased Inspections and Rounding to monitor compliance of our cleaning and disinfection process.

Education & Training: In addition to reinforcing our routine cleaning techniques, we are also educating and training our teams on the latest guidance and recommendations for infection prevention related to COVID-19.

Visitor Restrictions, Screening & Masking: Our hospital continues to enforce limited visitor restrictions, restricted access to our facility and screen every individual who enters our facility including patients, staff, providers and vendors. Everyone is encouraged to wear a mask while in our facility.

What happens after a patient is discharged?
As part of our routine cleaning protocol, our environmental services (EVS) team takes the following steps to clean and sanitize a room after a patient is discharged:
Restrict access to room.

Use alcohol foam (sanitizer) on hands and put on gloves.

Trash and linens are bagged.

Gloves are removed, alcohol foam reapplied; new gloves are put on.

Dust surfaces at shoulder height and above.

Disinfect bed — cleaning top to bottom, removing all tape.

Disinfect room — starting at the door, wiping high-touch surfaces and furniture.

Disinfect bathroom, cleaning and wiping down all areas.

Remove gloves and use alcohol foam. In isolation, or "high risk", rooms: Remove gloves, then gown, then mask. Wash hands with soap and water.

Gather clean linens, drape over forearm, hold away from body.

Make bed.

Restock supplies.

Dry mop.

Wet mop, ending at the door.

Clean hands and put on new gloves.

Disinfect cleaning equipment.

Remove gloves, wash with soap and water.
We are accepting donations of medical and protective supplies and equipment, click below to see how you can help:
http://www.southerntnpulaski.com/about-us/news-staff-blog/system-news/hospital-accepting-donations-of-medical-and-protective-supplies-and-equipment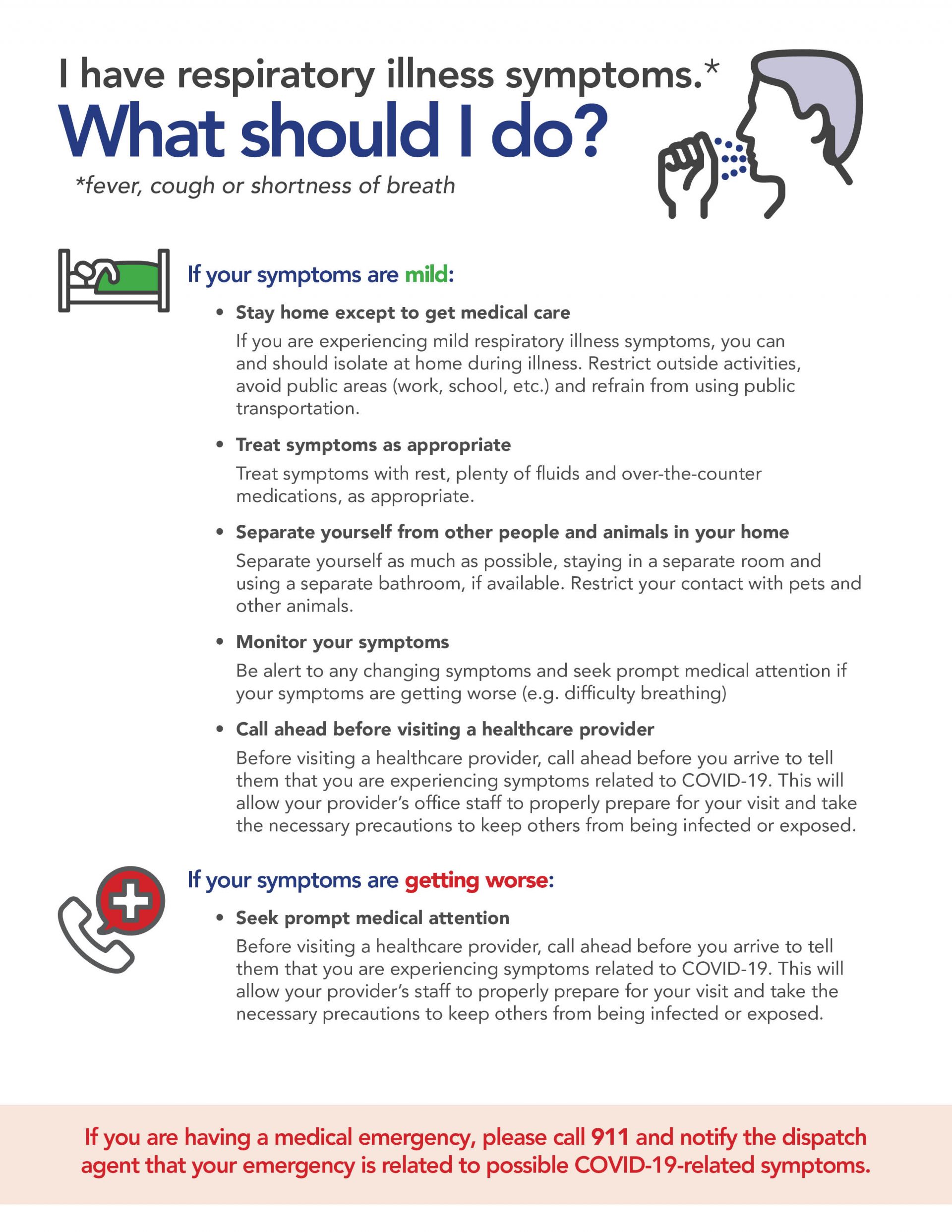 Southern Tennessee Regional Health System Pulaski is committed to providing the highest quality care and ensuring the safety of our patients, employees, providers, volunteers and visitors. We are working closely with the Tennessee Department of Health and following guidance from the Centers for Disease Control and Prevention (CDC) to ensure our hospital is prepared with the appropriate plans to detect, protect and respond should anyone in our community contract or be exposed to the novel coronavirus (2019-nCoV).
Southern Tennessee Regional Health System Pulaski has taken the following measures to prepare out of an abundance of caution, in accordance with CDC guidelines:
Patients in the Emergency Department and inpatient units are screened based on their recent travel history.

Personal protective equipment is available, including face masks and eye protection, for example.

Hand hygiene products are easily accessible throughout the facility.
Importantly, all of the above are standard operating protocols that are in place year-round to help ensure the health and well-being of everyone who enters our hospital.
We want to assure our community that our providers and clinical teams are well-trained and prepared to manage outbreaks of viruses and infectious diseases, including the coronavirus. For more information, contact Tennessee Department of Health or visit the Centers for Disease Control and Prevention website at www.cdc.gov.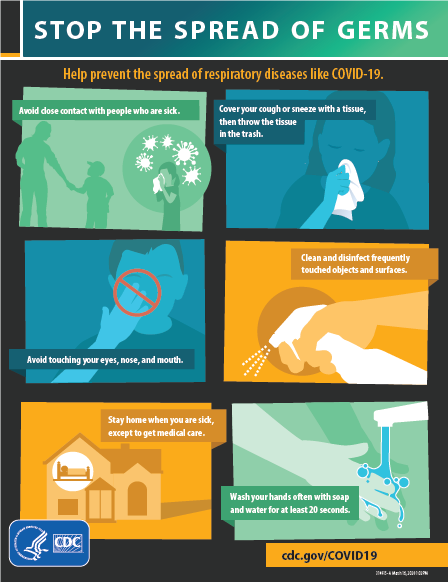 Hygiene Reminders from the CDC
Handwashing is one of the best ways to protect yourself and your family from getting sick. Learn when and how you should wash your hands to stay healthy.
Wash Your Hands Often to Stay Healthy
You can help yourself and your loved ones stay healthy by washing your hands often, especially during these key times when you are likely to get and spread germs:
Before, during, and after preparing food
Before eating food
Before and after caring for someone at home who is sick with vomiting or diarrhea
Before and after treating a cut or wound
After using the toilet
After changing diapers or cleaning up a child who has used the toilet
After blowing your nose, coughing, or sneezing
After touching an animal, animal feed, or animal waste
After handling pet food or pet treats
After touching garbage
Follow Five Steps to Wash Your Hands the Right Way
Washing your hands is easy, and it's one of the most effective ways to prevent the spread of germs. Clean hands can stop germs from spreading from one person to another and throughout an entire community—from your home and workplace to childcare facilities and hospitals.
Follow these five steps every time.
Wet your hands with clean, running water (warm or cold), turn off the tap, and apply soap.
Lather your hands by rubbing them together with the soap. Lather the backs of your hands, between your fingers, and under your nails.
Scrub your hands for at least 20 seconds. Need a timer? Hum the "Happy Birthday" song from beginning to end twice.
Rinse your hands well under clean, running water.
Dry your hands using a clean towel or air dry them.
Use Hand Sanitizer When You Can't Use Soap and Water
You can use an alcohol-based hand sanitizer that contains at least 60% alcohol if soap and water are not available.
Washing hands with soap and water is the best way to get rid of germs in most situations. If soap and water are not readily available, you can use an alcohol-based hand sanitizer that contains at least 60% alcohol. You can tell if the sanitizer contains at least 60% alcohol by looking at the product label.
Sanitizers can quickly reduce the number of germs on hands in many situations. However,
Sanitizers do not get rid of all types of germs.
Hand sanitizers may not be as effective when hands are visibly dirty or greasy.
Hand sanitizers might not remove harmful chemicals from hands like pesticides and heavy metals.
Caution! Swallowing alcohol-based hand sanitizers can cause alcohol poisoning if more than a couple of mouthfuls are swallowed. Keep it out of reach of young children and supervise their use. Learn more here.
How to use hand sanitizer
Apply the gel product to the palm of one hand (read the label to learn the correct amount).
Rub your hands together.
Rub the gel over all the surfaces of your hands and fingers until your hands are dry. This should take around 20 seconds.
For more information, visit the CDC website.